Sponsorship Opportunities
Looking to promote your services to the PMI Central Indiana community? We invite you to partner with PMI Central Indiana as a supporter.
The Value of a Strategic Partnership with PMI Central Indiana…
Gain direct exposure to `1,200+ PMI CENTRAL INDIANA Members
Gain indirect exposure to over 8,000+ professionals in the greater Indianapolis area who subscribe to our communications
Align with a chapter which is over 20 years strong
Ensure that PMI CENTRAL INDIANA continues to offer high quality events and programs in the practice of project management
Gain visibility as a leader and supporter of PMI both internally within your organization and externally to the business community
Increase your organization's visibility and brand awareness within your industry, and to your customers
Sponsorship Package Offerings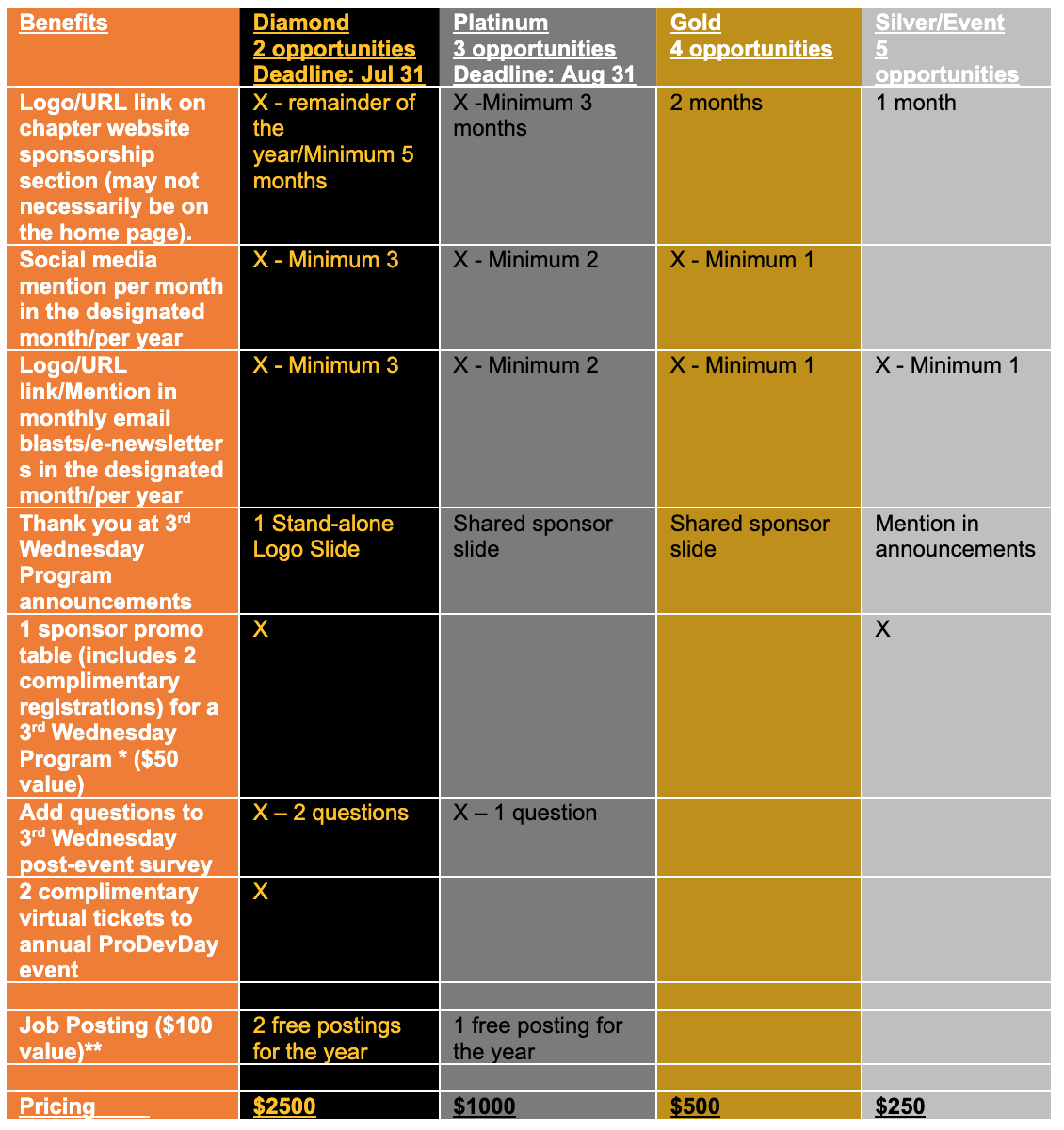 *A sponsorship promotional table (with two chairs) will be scheduled no less than 30 days in advance of the event. The table will be placed at the back of the room where attendees may stop by for further information. Company brochures, giveaways, etc. will not be distributed anywhere else, except at the promo table. If items are to be sold at the table, must have prior arrangements confirmed in your sponsorship contract.

** Job Postings are to be drafted by the sponsor organization and must be in compliance with all state and federal regulations, as well as chapter policies. The individual job posting will be posted for a period of 1 month in the current calendar year ending 12/31. PMICIC is not responsible for responses to said job postings in any way; all postings will have direct links and contact information for the posting organization.
Sponsorship packages for ProDev Day are separate from the chapter sponsorship package. Please visit prodevday.com or contact our VP of Professional Development for further information.